2023 SAFETY4SEA Manila Forum
The 2nd SAFETY4SEA Manila Forum is scheduled as a full day event (09:00 to 17:00) on Tuesday 24th of October 2023 at the Luzon Ballroom of Sofitel Philippine Plaza Manila, Philippines.
This is a NON PROFIT event expected to attract a target group of approx. 200 persons / 100 organizations attendance from Safety, Technical, Marine departments of shipping operators and other related industry stakeholders. Attendance will be FREE of charge to delegates, a common feature of ALL SAFETY4SEA forums with sponsors covering all the expenses of the event.
Attendance is FREE, subject to Registration.
Scope
Fostering Safer, Smarter & Greener Shipping
Concept
This is a PRO BONO / NON PROFIT event. ALL Attendees will have FREE admission, ALL conference costs shall be covered in full by the sponsors
Duration
This will be a FULL DAY event (09:00 – 17:00)
It will accommodate a max of 6 panels with a MAX of 24 speaker slots of MAX 12 min each plus a 25-30min panel discussion at the end of each panel.
Target Audience
Ship Operators, Technical, Marine Department & Shipping related audience
Estimated attendance: 200 delegates / 100 Organizations
Background
This will be the 2nd SAFETY4SEA Manila Forum.
Details of previous events may be found at

events.safety4sea.com

Agenda

Safety, Smart & Environmental Regulatory Developments (IMO, EU, US)
Human Factors, STCW, ILO MLC, SIRE 2.0
Soft Skills, Training & Development
Loss Prevention, Risk & Security management
Crew Wellness & Resilience
Crew alarming trends (Crew Abandonment, Bullying & Harassment, Suicides onboard etc)
ESG in Shipping
Experience Transfer & Best Practices beyond compliance

Place
Philippines, Manila, Sofitel Philippine Plaza Manila, Luzon Ballroom [ https://www.sofitelmanila.com/ ]
Date
TUESDAY 24 OCTOBER 2023
Website

events.safety4sea.com/2023-safety4sea-manila-forum/
Information will be available soon.
LEAD SPONSORS
SQEMARINE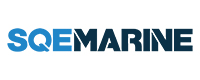 SQE Marine is a leading provider of Safety, Quality and Environmental Solutions providing Consulting, Training and Information products in these areas. We have been successfully providing a product and service range to more than 1,200 clients (based in 75+ countries) over the last 20 years, operating a DNVGL Certified Training Center and a LR ISO 9001 certified management system. Strong enough to provide immediate response and feedback to all client queries and needs, we provide a range of competitively priced services and timeliness for product / service delivery; we provide foolproof products and services to ensure full after sales support for as long as necessary. Last but not least, technical competence is the core of our management system & operations. Our vision is to be a leading world class corporation that provides reliable maritime solutions in the areas of Quality, Health, Safety, Environmental, Crisis, Security, and Risk Management. Our mission, therefore, is to provide real life, effective and efficient maritime solutions range including Consulting, Training and Information provision in order to maximize client benefit and minimize risk.
SPONSORS
ARCADIA SHIPMANAGEMENT CO. LTD
Arcadia Shipmanagement Co. LTD was established in Athens in 1998 with a clear strategic goal – "the safe transportation of cargoes worldwide with respect to the environment". Initially the Company assumed the management of two different types of vessels (dry and wet) but at a later stage ARCADIA, realizing the increased demands and responsibilities of the current times, focused its activities on tanker management. Following the Company's establishment in 1998, an ambitious investment program began with the construction of high specification aframax and suezmax tankers, in South Korean Yards, on behalf of Companies that had entrusted the management of their vessels to ARCADIA.
Blue Planet Shipping Ltd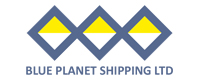 Blue Planet Shipping Ltd (BPS) was established and based at Piraeus since 1996, to manage 8 Dry Bulk Carriers. In 1998, BPS split into two separate companies. BPS retained its root name and Third Millenium Shipping Ltd (TMS) was set up to manage vessels for different owners. BPS managed 7 out of the 8 vessels; (AKMI – ARIS – EVMAR – COSMAR – ALMAVITA – AFROS & ALKIMOS) and the management of the ASTROMAR was undertaken by TMS. In 2002, clients of the company placed an order for 6 New Building Supramax vessels in China, of which 5 were delivered in 2003 and 1 in 2004. The new vessels (APOLLON – APEX – AKMI – EVNIA – NICOLAOS A and AVRA) were registered under Cyprus and Greek Flags. With the company by then managing a total of 14 vessels, it began recruiting different nationalities to man the ships, focusing mainly on Greek, Ukrainian, Burmese and Moroccan crews.
Capital-Executive Ship Management Corp.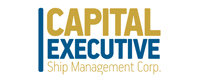 Capital-Executive Ship Management Corp. ('Capital-Executive') currently operates a fleet of 40 vessels including 36 container carriers and 4 modern bulk carriers with a total dwt of 2,915,834 tons and total teu of 180,363 approx. The fleet under management includes vessels of Nasdaq-listed Capital Product Partners L.P. The Capital-Executive team has extensive experience in managing various vessel types and sizes. The Company offers comprehensive services in every aspect of ship management including: safety and technical management, claims & insurance, bunkering, risk assessment, newbuilding design and supervision, IT services, accounting, financial management and other administrative functions, as well as in-house human resources management, such as crewing and personnel training with state-of-the-art technology.
Capital Gas Ship Management Corp.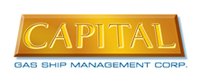 Capital Gas Ship Management Corp. ("Capital Gas") is a ship management service provider, currently operating a fleet of 14 modern LNG Carriers with a total carrying capacity of approximately 2.44 million cubic meters and a total dwt of 1.14 Tons. Our Team consists of highly skilled personnel with extensive experience in the LNG Sector from initial design and newbuilding supervision to LNGCs operations and technical management. Capital Gas Ship Management is a member of SIGTTO and SGMF.
Capital Shipmanagement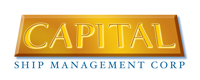 Capital Ship Management Corp. ('Capital') is a distinguished oceangoing vessel operator, offering comprehensive services in every aspect of ship management, currently operating a fleet of 39 tankers (12 VLCCs, 15 Aframaxes, 11 MR/Handy product tankers and 1 small tanker) with a total dwt of 5.95 million tons approx. Capital has extensive experience in managing various vessel types and sizes including all tanker segments (VLCC, Suezmax, Aframax/LR2, Panamax/LR1, MR/Handy and small tankers), dry bulk segments (Cape, Panamax, Handymax and Handy), as well as OBOs and containers. The excellent performance of Capital Ship Management has been recognized by oil major companies and major traders in the industry. It is one of a few ship management companies to have successfully completed the comprehensive office assessment process of numerous major oil companies and has also established long standing relationships with major traders, liners and operators. The Company offers comprehensive services in every aspect of ship management including: safety and technical management, claims & insurance, bunkering, vetting preparation and attendance, risk assessment, newbuilding design and supervision, IT services, accounting, financial management and other administrative functions, as well as in-house human resources management, such as crewing and personnel training with state-of-the-art technology.
Columbia Ship Management
With over 40 years of tradition, commitment and professionalism, Columbia has established its position as a world-class ship manager and maritime service provider. Since our founding in Cyprus, we have developed a global reputation by continuously exceeding our clients´ expectations when providing the highest quality and professional management services. Our success is based on the tremendous added-value granted to our clients by leveraging a strong global network and the will of being a leading force in the maritime industry.
www.columbia-shipmanagement.com/
Dorian LPG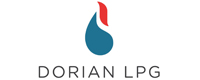 Dorian LPG is a pure-play LPG shipping company and a leading owner and operator of modern VLGCs. Dorian LPG currently has four modern VLGCs and one pressurized LPG vessel on the water. Dorian LPG has 18 ECO VLGC newbuildings due for delivery in 2014, 2015 and 2016 from HHI and Daewoo Shipping and Marine Engineering Ltd., including the 13 that it acquired from Scorpio Tankers. Dorian LPG has offices in Connecticut, London, and Piraeus.Dorian LPG is incorporated in the Republic of The Marshall Islands.
Eastern Mediterranean Maritime Limited (EASTMED)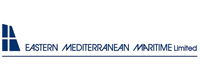 EASTMED is a ships management company with head offices in Glyfada (Athens), Greece. Presently the company has under management 78 vessels, employs 200 shore based personnel and a further 3000 seagoing staff. The fleet comprises of 29 tankers, 39 dry bulk carriers and 10 container ships, adding up to a total DWT capacity of 7.2 million tons. Principally both the tankers and the dry cargo vessels are employed on the spot market and occasionally will enter into short period charter agreements on a number of ships of the fleet.
The following overseas companies are employed as exclusive agents of EASTMED:
·       Intermar Chartering (UK) Ltd. in London, U.K.: Covers the London chartering market.
·       Eastern Mediterranean Manning Agency in Manila, Philippines: Directly selects, trains, and employs Filipino Masters, Officers, and Crew exclusively for the vessels under EASTMED's management.
EASTMED was granted by Lloyd's the ISO 9001, ISO 14001 and OHSAS 18001 certification in December 2010 and is in the process of being certified with ISO 50001 within 2016. EASTMED is presently a member of BIMCO, INTERTANKO and INTERCARGO, thus joining forces for improved standards in the industry. EASTMED voluntarily participates to AMVER reporting system, operated by the US Coast Guard for promoting safety of life and property at sea. Managed vessels are honored with AMVER awards on an annual basis.
EURONAV
Euronav is an independent tanker company engaged in the ocean transportation and storage of crude oil. The Company is headquartered in Antwerp, Belgium, and has offices throughout Europe and Asia. Euronav is listed on Euronext Brussels and on the NYSE under the symbol EURN. Euronav employs its fleet both on the spot and period market. Sustainability is a core value at Euronav as it ensures the long-term health and success of our people, our business, and the environment we work in. It involves a commitment to safety and environmental practices, as well as an innovative approach to the use of technology and information.
I.M.A. Assessment & Training Center Inc.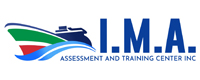 Founded in 2007, I.M.A. Assessment & Training Center Inc. is an in-house maritime training center tailored to meet the unique demands of the shipping industry. With a commitment to upholding maritime standards and enhancing crew competency, we offer specialized services in the realm of assessment and training for both pre-boarding and post-boarding personnel. Understanding the importance of a skilled and knowledgeable crew, our Academy employs a team of seasoned maritime professionals who bring a wealth of experience and expertise to our training modules. Our comprehensive training programs are designed to equip seafarers with the knowledge and skills necessary to perform at their best, ensuring the safety, efficiency, and reliability of shipping operations. In addition to our core training programs, we recognize the ongoing need for continuous learning and adaptation in the maritime sector. To this end, we've also introduced on-board training initiatives, allowing crew members to receive continuous education and updates, even while at sea. With our state-of-the-art training facilities, coupled with the latest maritime technologies and methodologies, I.M.A. Assessment & Training Center Inc. stands as a beacon of maritime excellence, dedicated to producing world-class seafarers and advancing the global shipping industry.
Inmarsat 
Inmarsat Maritime is now a Viasat business and continues to power the digitalisation of the maritime industry, making operations more efficient and safer than ever before. Viasat is a global communications company that believes everyone and everything in the world can be connected. With offices in 24 countries around the world, our mission shapes how consumers, businesses, governments and militaries around the world communicate and connect. Viasat is developing the ultimate global communications network to power high-quality, reliable, secure, affordable, fast connections to positively impact people's lives anywhere they are—on the ground, in the air or at sea, while building a sustainable future in space. On May 30, 2023, Viasat completed its acquisition of Inmarsat, combining the teams, technologies and resources of the two companies to create a new global communications partner. Inmarsat Maritime is based in Viasat's global international business headquarters in London, United Kingdom.
Latsco Marine Management Inc.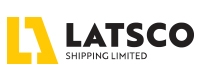 Latsco Marine Management Inc. a subsidiary company of Latsco Shipping Ltd., has been established 1st January 2019 and is currently located at Kifisia. Latsco's history begins over half a century ago as part of Latsis Companies' Group. Latsco provides operational, technical, financial and ship building services, focusing on fundamental principles of quality, integrity, safety, health, environmental protection and energy efficiency, with established programmes for performance excellence, profitability and growth of management of clean energy transportation vessels. Latsco pursues all entrepreneurial ventures with ethics, integrity, consistency to incident-free operations and ultimate aspiration of providing excellent services through long-lasting customer relationships. Currently, LMM Inc. manages a fleet of 27 vessels (MRs, LR2, VLGCs), while another 2 vessels shall be delivered up to 2020.
NAVTOR
NAVTOR provides seamless, secure and integrated solutions for smarter e-Navigation and optimal vessel performance. At NAVTOR, we can offer innovative e-Navigation and performance solutions that have the power to transform vessel operations, fleet management and business results. This is more than navigation – this is a connected, smart and data-driven ecosystem that can unlock unique benefits for your shipping business.
OneLearn Global
OneLearn Global was created to provide training solutions to serve the maritime, energy, hospitality and industrial sectors and offers an enormously effective and intuitive next-gen Learning Management System (LMS), designed to deliver both an enhanced and engaging, yet personalised and intuitive, enjoyable learning experience through digitalisation.
RightShip
RightShip is the world's leading Environmental, Social and Governance (ESG) focused digital maritime platform, providing expertise in global safety, sustainability and social responsibility practices. Founded with the mission to drive operational improvements in the global shipping industry, more than 1,000 customers use RightShip's due diligence, environmental and inspections services to manage risk and improve overall maritime safety standards on shore and at sea. At RightShip we believe in a zero-harm maritime industry. By this we mean zero harm to ships, to the cargo those ships carry, to the seafarers carrying out their duties on board, and of course, zero harm to the environment the vessels are trading in. A successful voyage meets the highest safety standards, protects the environment, ensures seafarers are supported and is commercially beneficial to the entire supply chain. We're here to make that happen. We aim to be a trusted innovation partner, charting a safe, sustainable and socially conscious future for the maritime industry. We're not just about reducing emissions and improving operational efficiency We seek to provide everyone in the supply chain with safe and practical business solutions, so that the maritime industry can continue to thrive.  Working across the supply chain, we want to drive significant industry change, making maritime a more appealing, more diverse working environment for all concerned. That's the RightShip way.
RISK4SEA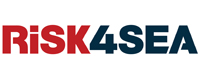 RISK4SEA is an online platform to provide PSC performance transparency to the market by analysing PSC Data providing KPI, Demographics, Detentions Analytics, reports, Benchmarks and Insights for 23 fleet segments in an advanced analysis of the last 5 years to assist stakeholders to:
-PREPARE for forthcoming PSC inspections
-ANALYSE PSC performance to identify strengths & weaknesses
-BENCHMARK fleets against competition and the industry
SEAFiT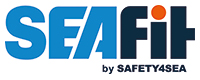 SEAFiT, powered by SAFETY4SEA, is a pioneering mental health program providing comprehensive guidance and a holistic approach to maritime stakeholders to evaluate the mental health state of both their shore and sea staff and raise awareness over wellbeing issues.
Who Should Attend
This is a must attend event for all companies and individuals interested in Maritime Environmental Excellence and Sustainable Shipping , including:
Ship owners
Ship Manager Company Staff (Technical, Marine, Operations, Safety & Quality)
Maritime professionals
Regulatory & government authorities
Flag state representatives
Classification societies representatives
Marine Insurers & P&I Executives
Experts on information technologies (IT) onboard
Other relevant with smart technologies Industry Organizations/ Executives/ Experts
---
Delegate Helpdesk
General Information
Who can I contact for more information on the event?
Please contact the organizers directly at e-mail: info [at] safety4sea [dot] com
Registration
How do I register?
To register you should fill in the online registration form and follow the instructions contained in the Registration Form.
Is the event free to attend for the delegates?
Attendance to the event is FREE subject to online registration. In case you are interested, please complete the online registration form and confirm with the organizers. FREE attendance includes coffee, snacks and drinks during breaks. Attendance does NOT include accommodation and/or traveling or parking which should be paid in by the delegates as decided/applicable.
What happens if I am unable to attend despite being registered?
Appreciate if you could inform the organizers by e-mail as soon as possible before the event.
At the event
Where is the event being held and how do I get there?
The event location is at the Luzon Ballroom, Sofitel Philippine Plaza Manila, Philippines. For more information on the venue, please click here.
What happens when I get to the event venue?
When you arrive at the event please go to the registration desk and collect your badge which should be worn at all times. Welcome coffee and snacks are available during registration and breaks.
After the event
How may I evaluate and comment on the event?
You may comment with the organizers at any time, during or after the event. Furthermore an event evaluation form will be available online after the event to complete anonymously any comments you may have.
Please contact the organizers directly at e-mail: info [at] safety4sea [dot] com
---
We look forward to welcoming you at this event!